Introduction of A Biopesticide(Metarhizium) for Locust Control
---
Introduction of A Biopesticide(Metarhizium) for Locust Control
Contents
1.Chongqing Julixin Bio-Engineering Co.,Ltd
2.Main Products of the Company
3.Products' Registration
4.Features of CQMa421
5.Effects of CQMa421 on Locust Control
6.Application Methods of CQMa 421
Chongqing Julixin Bio-Engineering Co.,Ltd.
1.Julixin company (GN), founded in 1998, is a high-tech biopesticide enterprise integrating R & D, production and sales (service)
2.The registered capital of the company is 125 million RMB
3.The company has the only solid fermentation plant in the world that realizes standardization, industrialization and large-scale production of fungal pesticides, covering an area of more than 30,000 square meters, with an annual production capacity of 28000 metric tons.
4.Company Add.:7th FL, Jupiter Technology Mansion 1st District, No. 9 Huangshan Road, New North
Zone of Chongqing, P.R.C.
5.Manufacturing Site:Baitao Chemical Industry Park, Fuling District of Chongqing, P.R.C.
6.Website: www.gnclub.com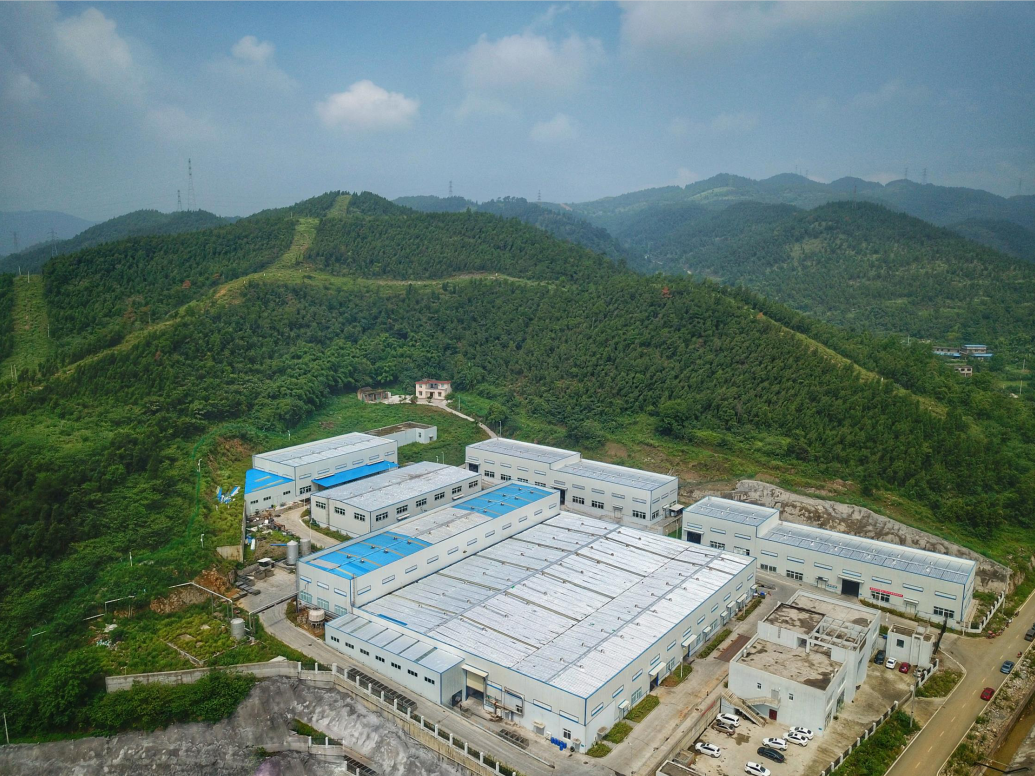 Main Products of Julixin
Technical Grade:
15 billion spores / g(PD20171745)
Formulations:
Dispersible oil suspension:
8 billion live spores / ml(PD20171744)
Granule:
200 million live spores / g(PD20190001)
Wettable powder: 8 billion live spores / g(PD20182111)
19 targeted pests on 12 crops registered for this pesticide, including locust
Registration: The Products have been approved by the Ministry of Agriculture of China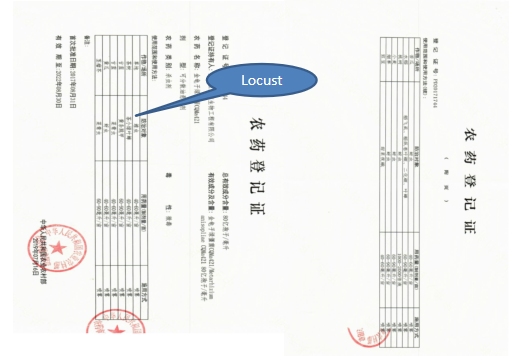 19 Targeted pests on 12 Crops Registered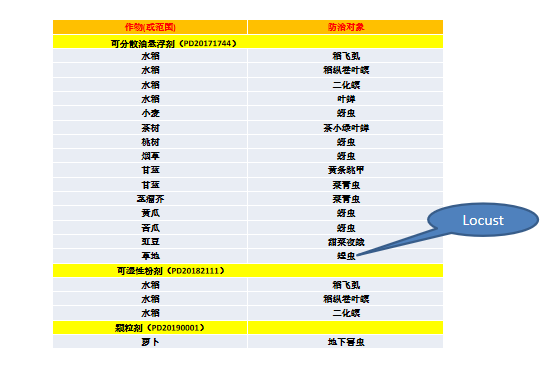 Metarhizium anisopliae 421 Listed

as Recommended Pesticide by State and Provincial Governments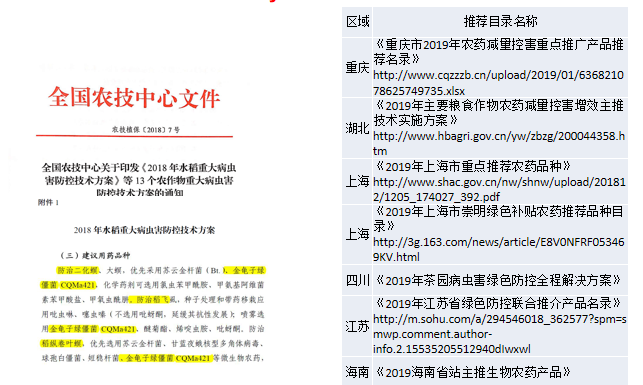 Awards and Certificates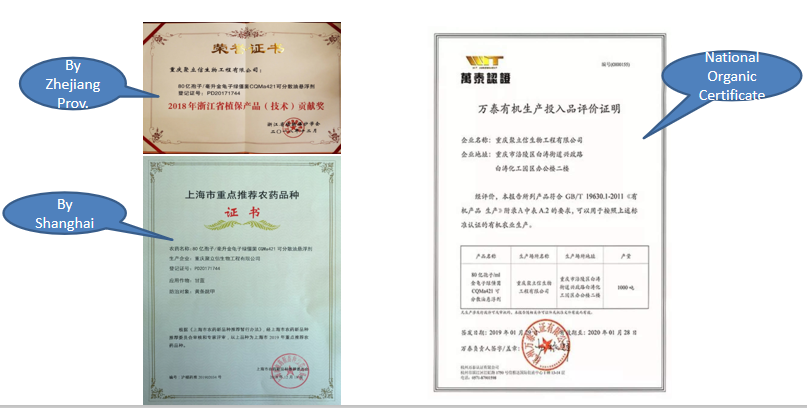 Sample Publication on Locust Control by Pro. Yuxian Xia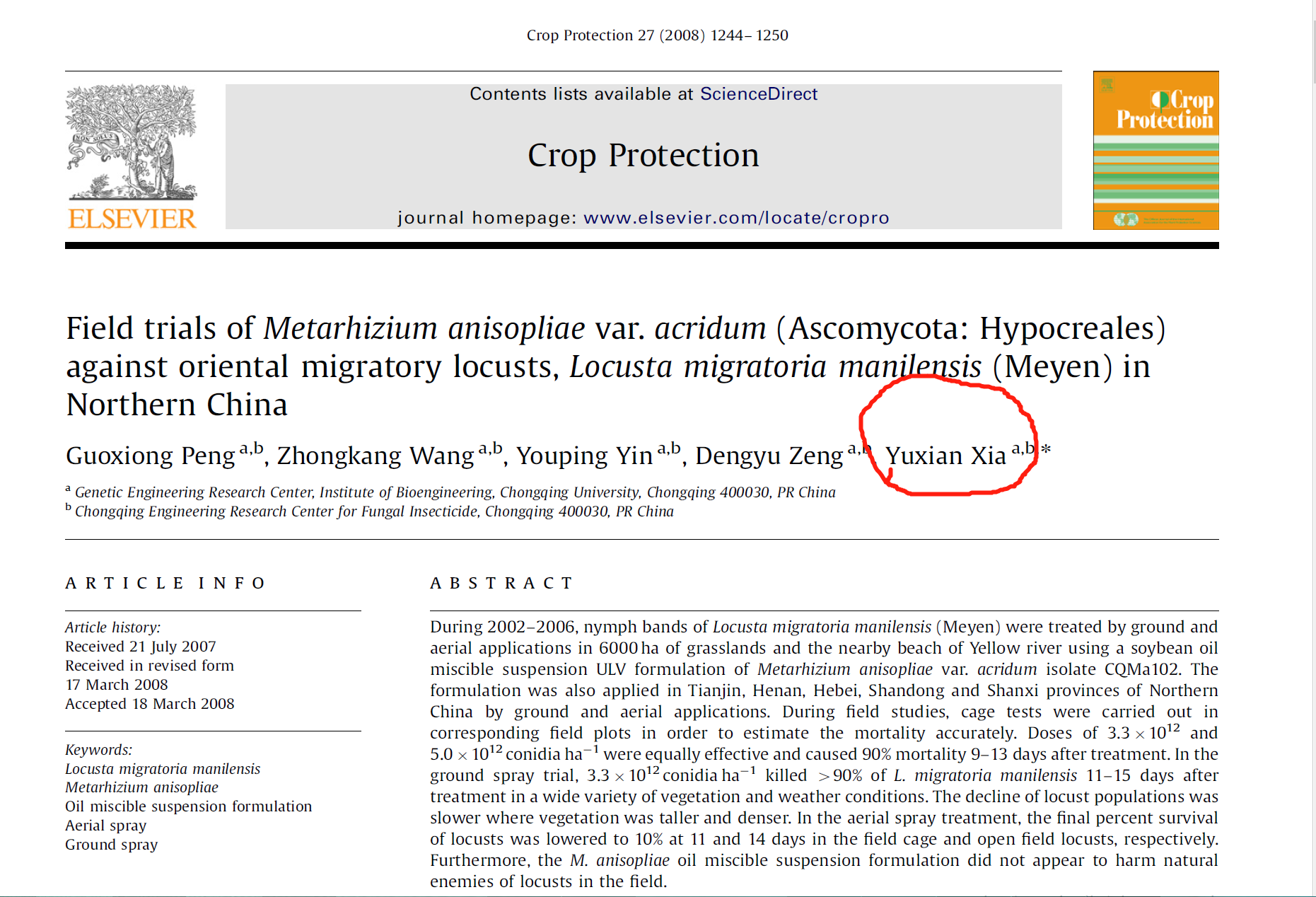 Metarhizium anisopliae 421 is a Fungal Pesticide
1.Full name: Metarhizium anisopliae CQMa421
2.Abbreviation: Ma421
3.After ten years of intensive research, Professor Yuxian Xia and his team from Chongqing University, screened and cultivated this Metarhizium anisopliae from thousands of specimens.
4.The dispersible oil suspension of Metarhizium has been used and controled locust in more than 150,000 hectares in China, playing a key role in locust control and results in no locust outbreaks in China for more than 10 years.
5.The strain has better broad spectrum, better stability, stronger resistance, and is a new generation of more efficient fungal pesticide.
6.The strain, CGMCC4609, is now preserved by the Institute of Microbiology, Chinese Academy of Sciences.
Features of CQMa421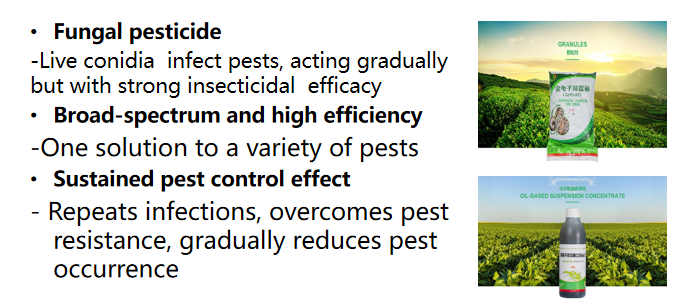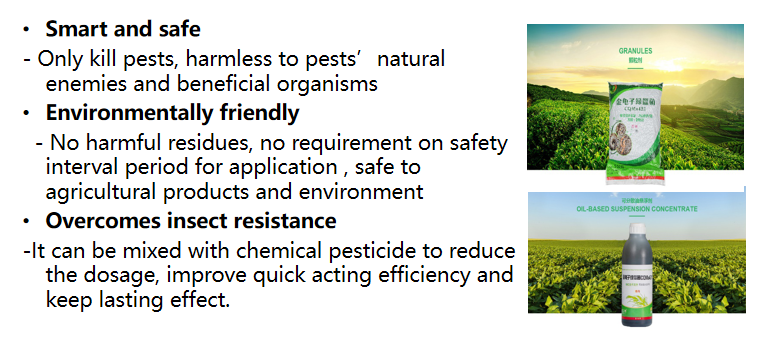 Effects of CQMa421 on Locust Control(State Registration Experiments)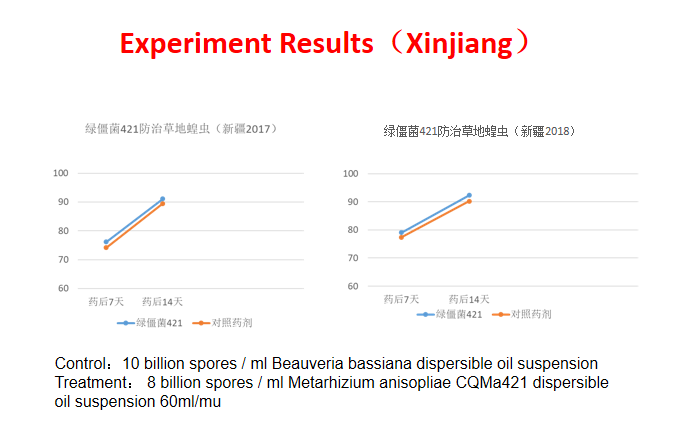 Conclusion
The control experiment of Metarhizium anisopliae 421 on locust was mainly concentrated in Ningxia, Xinjiang and Hebei. 421 and the chemical pesticide were selected to compare in the field plot experiments. The results showed that there was no significant difference between the 421 and the chemical pesticide, and the effect of 421 was over 60% after 14 days. Compared with the chemical control, the efficacy of the 421 is significantly better than that of the control pesticide, which fully proves that the biological pesticide has a good pest population control effect and can completely or partially replace the chemical pesticide in the field.
Application of CQMa421 Dispersible Oil Suspension
1.Manual sprayer
60-80 ml/mu, two times dilution method is applied, dilute 30-45 litres of water, then spray on damaged parts and pest inhabiting parts.
2.Mechanical (helicopter) spray
60-80 ml/mu, two times dilution method is applied, dilute 45-60 litres of water, then spray on damaged parts and pest inhabiting parts.
3.Drone (UAV: ultra low capacity) spray
60-80 ml/mu, two times dilution method is applied, dilute 1-1.5 litres of water, then spray 2-3 meters above crops.
***For locust control, the dosage is 1 litre/hectare.
Usage Instruction